VRC Sporting
What can VRC members use?
Kayaks
Family Canoe
Prone Paddle Boards
SUPS (Stand Up Paddle Board) *
Surf Ski's *
OC1 (Outrigger Canoe 1-person) *
Board Rowing *
* requires certification, please ask our Club or Events Manager for more information.
For Surf Ski and OC1 rental, participants must be minimum of 11 years old and 1.58 cm tall.
Do I need to be club certified?
No for Kayaks and Family Canoes
Yes for SUPs, Surf Ski', OC1, and Board Rowing
Why do I need to be certified?
To understand our rental process (check out, waivers, payment)
Learn and demonstrate ability rig and use equipment properly
Understand safety rules and skills, including ability to recover from a capsize
How can I get Lessons?
VRC is able to schedule lessons with our trainers
Can I take guests?
Yes. Members are fully responsible for their guests safety and club equipment. Guest must meet guidelines and sign waivers.
All safety protocols apply – Wear PFD, Leg Leash, inform Club when going out and back
Where can I suggest feedback?
VRC General Manager
VRC Events Manager
VRC Sports Committee
To Rent Equipment
When Checking Out Equipment
Request this from our staff and sign our waiver
If required, our staff check if you are certified
Get a Leash, Paddle and PFD
Check vessel for any damages
Check Weather – Do not go onto the water if above Force 3 (19 km/h) or if Club Staff informs you cannot
Check Tide Charts and Levels
Going Out
Inform Staff (and Use white board)
Be Safe, wear a PFD and Leg Leash and be Visible (wear bright clothes)
Know where you are going, how far the distance, wind direction and your level
Know your landmarks, hidden rocks
If needed, ask for help to launch boats
Take a phone or something to communicate with
Returning
Ask for help if needed to bring vessel back in
Rinse and Return Equipment to original spot
Inform staff you are back and if any issues
Deep Water Bay
Beginners – Stay in Sight of Club
Advanced – Eastside of Ocean Park; North Side of Round Island; West of Chung Hom Kok Park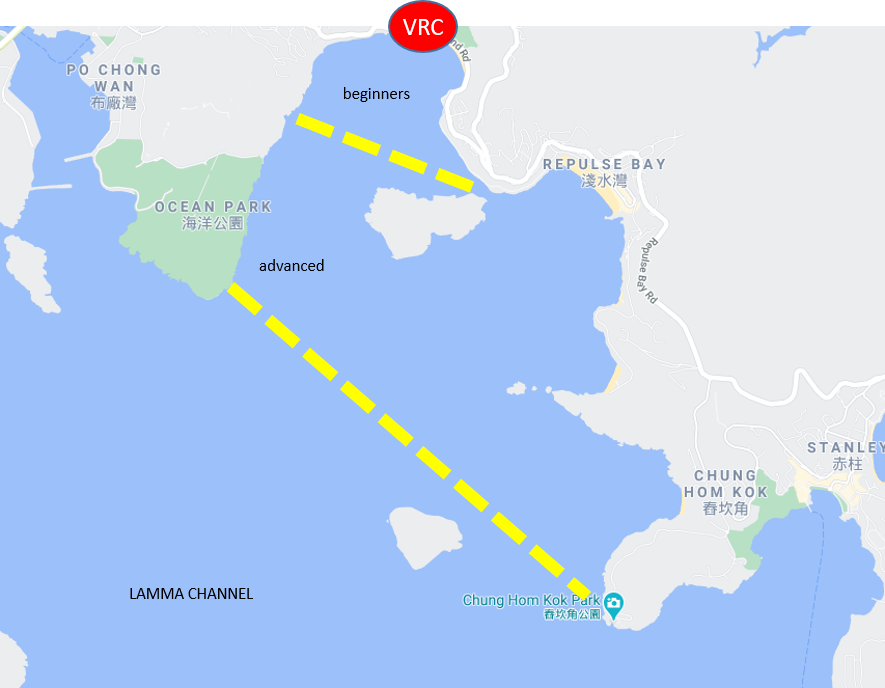 Emerald Bay
Emerald Bay Boundaries
Beginners – Stay in Sight of Club